Agent Truxi here, requesting permission to go live with a request to all agents who may be canvasing a certain gathering in Charlotte, NC this coming weekend.  It's another convention, Agents, and as you all know, conventions are an excellent place for getting the word out, as our man has more than likely been to a few.  So as a follow-up to Operation: On Your Sleeve, R&D has created a simple-but-effective bit of wearable message.
Buttons.
These buttons will be available to any agents for as long as the supplies hold out (R&D doesn't quite have the funding they used to after the Marshmallow Incident.  Incidentally, for any agents involved in the betting pool, it took fifteen jumbo bags or mini-mallows and three hours).  To obtain them, simply locate this agent: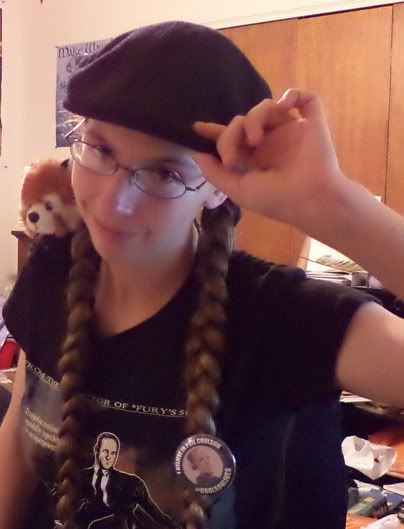 who will be undercover as a malnourished, struggling artist, in the back corner (table 845, if my sources are reliable), and deliver the code: "It'll be a nice day if it doesn't rain."  (Additional codes include: "Ooh, can I have a button?" and, "I love Agent Coulson!") 
Good luck Agents, hope to contact you there.
Agent Truxi out.
Proceed with deployment, agent. Keep an eye out, members of the North Carolina branch. — Agent Glyph
jackfrostalope reblogged this from coulsonlivesproject